Why is the price to purchase an MLM software system so different among software providers in the direct selling space?  Don't they all offer replicated websites, manage distributor downlines, process orders and pay commissions?
The ole adage, "you get what you pay for" has always implied that "high price equals higher quality".  I believe that holds true for just about anything you buy whether it be a car, a house, or even a white dress shirt.
Do I buy that white dress shirt from Walmart or Nordstrom?  Well, it depends.  If I want something cheaply made that looks run-of-the mill at a cut-rate price that hangs on me like a drape and undoubtedly will become a rag after a couple of washing, Walmart is the ticket. However, if I want a quality made double-stitched dress shirt with a split back yoke, curved hems, raised placket, button-down collar, adjustable button cuffs with perfect-fit alterations that will stand the test of time, backed by an amazing return policy, Nordstrom is my store.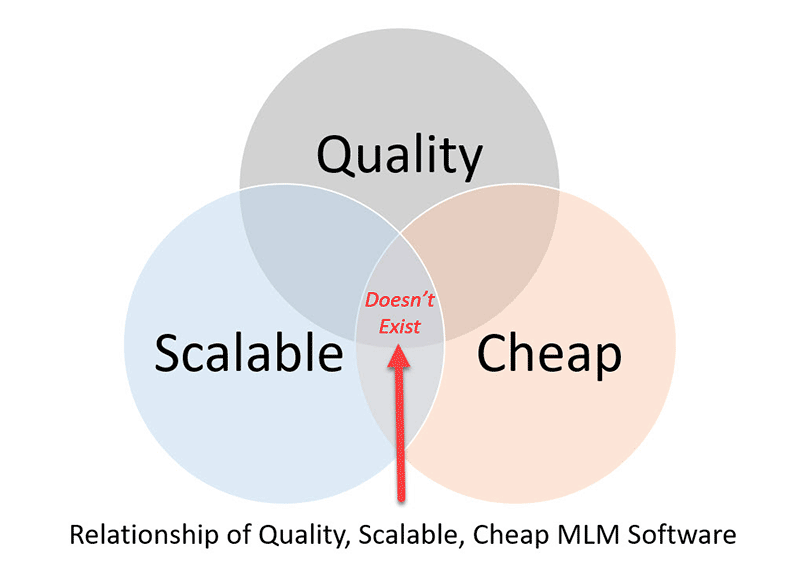 Is it so surprising then to find that the dress shirt I purchased from Nordstrom is 5 times more money than the one I purchased from Walmart?  Hmm…Browsing their respective online shopping catalogs, they look almost identical.  But after personally experiencing and wearing each shirt, I quickly realized there are huge "material" differences.
So, what does buying white shirts have to do with purchasing MLM software?
Many unaware purchasers assume that the cost to purchase an MLM software system is the initial out-of-pocket price.  If that were the case and if all MLM software providers systems were built equally, the natural selection option would be the one with the lowest price. Right?
Wrong! A purchaser must understand two very important fundamental buying truths. First, MLM software is NOT created equally and second, the "get what you pay for" adage holds true with buying MLM software just like it applies to buying white shirts.
How can this be? Let's say that I need to quickly replace the cheap white shirt from Walmart with a better one from Nordstrom. Fortunately, the cost to replace the cheap white shirt with a better one is easy to do with minimal risk to me. On the other hand, if I need to replace a cheap, dysfunctional MLM software system that doesn't meet my needs, it's not easy to do and can become very expensive to my business.  The replacement cost can quickly supersede the initial purchase price by 10 to 100-fold. It's important to understand that cost comes in many undesirable forms that could undermine the growth of your business and the livelihood of your distributors.
Cost of the Inability to Scale
Cost can come in the form of the software not being able to meet the growing demands of your business.  Many cheap software solutions offer limited, inflexible platforms where you are required to model your MLM business after the functionality and capability of their software.  These types of software solutions may work for companies whose business model is NOT to grow or experience change.  However, this is a ridiculous, counter-intuitive notion.  Growth and change are fundamental business drivers that grow and prosper network marketing businesses.
Ask yourself, if the MLM software system can't scale to grow as I grow, how much would lack of scalability cost my business?
Cost of the Lack of Innovation
Cost can come in the form of outdated technology that struggles to keep pace with changes in the market place. What worked yesterday, may not work tomorrow. There are several well-known companies that felt the devastating impact from their lack of innovation.  You may have heard of Blockbuster, Polaroid, Nokia and BlackBerry. Once thriving companies, now, nowhere to be found except in case studies published in Business Management books.
Unfortunately, there are several MLM software platforms that offer few upgrades or enhancements to their systems because the cheap price they market weakens their ability to invest funds in new product development, R&D and innovation outside of their operating expenses.
Ask yourself, if my MLM software system doesn't provide new features or functionality to help me be more competitive, cost-effective and operation efficient, how much would lack of innovation cost my business?
Cost of Insufficient Support
The on-going support pricing structure of the MLM software provider is in direct correlation to their ability to properly support the needs of your business.  As an MLM grows from 1 to 1,000,000 distributors or expands from 1 to 20 different markets, their IT and client support service needs will grow exponentially.
One thing that is common among the MLM software providers is the need for good IT talent to build and support the software they market. Programmers, QA, Business Analysts, Designers, Commission Plan Experts, do not come cheap and are not readily found in the US market. And when they are found, there is stiff competition and huge salaries to contend with.
Due to the high demand and low supply in the US market, many cheap MLM software providers have resorted to offshore software development and support strategies to keep their cost down so they can continue to compete with a low price. Unquestionably, the hourly rate for an offshore programmer is less, however; there are several hidden costs that come in less obvious forms until it's too late. Lack of MLM business understanding and experience which produces a low quality of work.  Missed deadlines, poor project management, time and language barriers that frustrate and kill projects, to name a few.
The only way an MLM software provider can lock in a fixed price arrangement at a low price is to sell more software systems.  The undesirable side effect to this revealing scenario is the software providers inability to provide or even afford to give you the proper and timely support that you'll need, when you need it.
Ask yourself, if my MLM software providers support fees are static and capped, how can they afford to increase their support resources and bandwidth when I become a multi-million-dollar company with tens of thousands of distributors?
Cost of System Conversion
One day, and usually at the most inopportune time of a company's existence, that cheap software that they once thought exciting and a great deal… doesn't scale, is calculating commissions incorrectly, doesn't expand internationally, offers little to no customization that you need, is built on outdated and inflexible technology, is found to have insufficient system security that is easily hacked and attacked by cyber-criminals, there's little to no on-going training and support from the provider, and the list goes on.
That cheap priced software is now costing the company huge in lost revenue, dissatisfied distributors, poor reputation, and that's just the beginning.  How could this happen? Simple math does not lie.  If you have a provider with a fixed price that is not relational to your growth chances are they have no money to invest in you.
Ask yourself, am I willing to risk the growth, stability and reputation of my company to the possibility of a software conversion?
What makes me the expert of MLM Software?
Experience. The reason I can speak so boldly to these unwanted, costly pitfalls is that these are the very complaints and tragedies that I hear repeatedly from companies that initially settled for a cheap software solution and things went wrong.  They are forced to frantically seek and migrate their tapped out MLM software system to a scalable MLM software solution that will solve their problems and save their company.
If what I'm sharing sounds like a scare tactic, "it is", and this really happens, more times than not.  If Xennsoft could find a way to market a cheap price system that offers the quality, reliability, scalability, security, that you would expect from an enterprise-level software system, we would be offering it. But… it doesn't exist.
Xennsoft has been implementing MLM software systems and services for startups and existing MLM's for the past 15+ years.  Our experience has taught us what it takes to properly implement and support an MLM software system that will be an asset to the growth and prosperity of an MLM company. We have large, internationally-expanded clients doing business in over 60 countries that have been using Xennsoft for years.
The question to ask is, are you a Walmart or Nordstrom type of shopper?