Cleaning the house and rearranging the furniture for guests to come by your home for an evening is now a thing of the past. Online parties right from the comfort of your home via your mobile phone, ipad, laptop, or computer are starting to be successful.
More people are hosting virtual parties online to drive sales in their party plan business. A live virtual party is much like a home party, but instead of having people coming to your home, you invite guests to participate online through social media. Lets take Facebook as an example; you can now do a Facebook Live presentation where people can join in from literally anywhere with internet connection including the beach, the café, or in the comfort of their own home.
There are many benefits to having virtual parties. Some of the biggest benefits are
You no longer have a time or distance barrier.
People can also watch at their leisure and in the comfort of their own homes or on the go.
Nobody has to drive, which takes time, gas, and mileage, and can also have an environmental impact.
Just last week I joined a Facebook Live presentation where there were over 400 people who joined in. Try fitting 400 people in your home and see how well that goes.
At Xennsoft we plan for the future and have made it possible to share a link via your favorite social media platform. By doing this people will be able to place orders easily and conveniently through your online party. This is a great way to track all your party orders to a specific hostess for a specific online party.
Here are four key steps of hosting a social media online party that will help it be successful: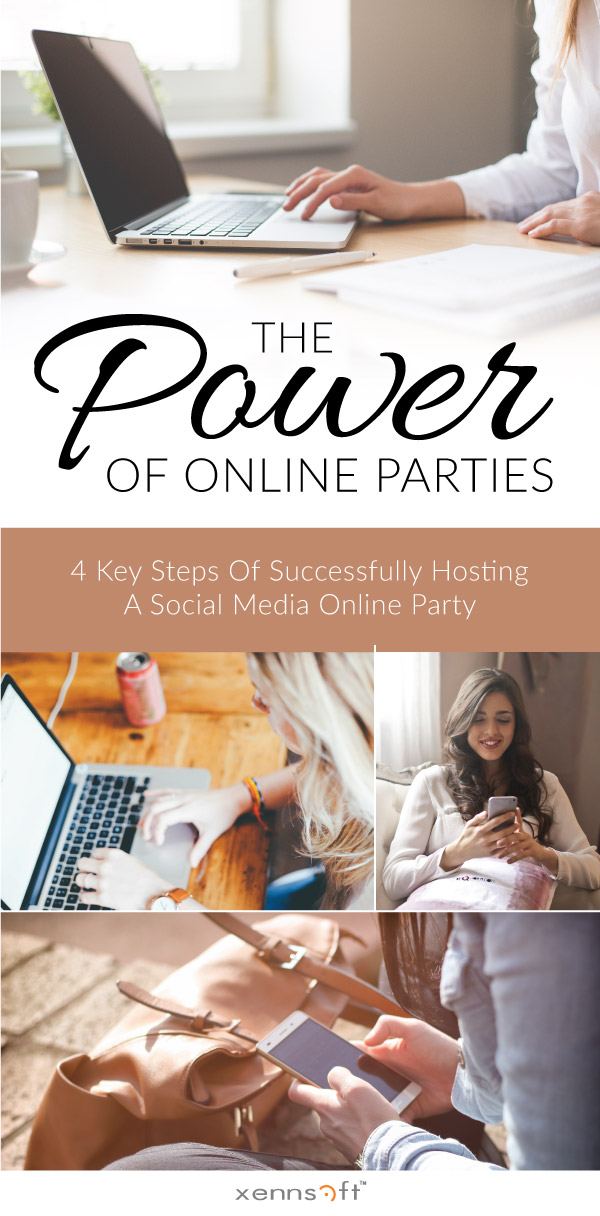 1. Organize Your Online Party
Start by picking a time, date that you can stick with and invite a list of guests. I recommend creating an event through your Facebook page and other social media platforms to which you belong. Next send out emails to invite and remind people of your virtual party and keep it personalized. This will help support your hostess in extending invitations to her party prior to your event.
It is common for guests to come and go as the party progresses. When your virtual party starts remember to keep guests engaged by posting regularly and respond to any questions they have. A few ways other ways to increase engagement would be to
Post pinnables, links and giveaways
Create urgency!
Limiting prizes that are given out
Limiting bonus products where you can take advantage of impulse buying
Before starting your party make sure you know how long the party will run, when it will end, and what the limitations are with the platform you will be using. As of the writing of this article, Facebook Live limits you to 90 minutes.
I have seen people use Facebook, YouTube, Ustream, Google+, GoToMeeting, Join.me, Periscope and even personal websites. Xennsoft can also help companies with their own official virtual party software. Overall, remember to be impromptu and keep things personal and real.
The end of your party is very important. At this point you will want to invite your attendees to make a purchase and encourage them be a party host/hostess. For those who were not able to attend the online party let them know that they can watch and order at their leisure.
2. Highlight your Hostess
Your hostess is the key to your success. When they feel your support they will be excited and motivated to take the steps that will make your parties popular. This will also help build attendee numbers and ultimately your success.
3. Promote through Social Media Platforms
Use photos and video in posts in anticipation of the event. It is a good idea to crate a short video of your hostess inviting friends and family to the online party. Create images that you and your hostess can tweet, pin, or post that may contain product shots, dates and times, and perhaps a testimonial when possible.
4. After the Party
Consider having an "after-party" special after your online party ends, we recommend up to 48 hours. Remember to follow up with your host/hostess within 24 hours after the party closes to give them sincere thanks and gratitude for hosting the party.