In 2015, Direct Sales Reached 183.7 Billion in Revenue
What was your take?
When was the last time you recommended a movie or health related tip or product to a friend, family member or colleague. Millions of people do this every day – and get paid for it.
The Network Marketing and Direct Sales profession hit a new record high in 2015 with $183.7 Billion in global sales.1
Roughly $73.4 Billion (40%), was paid directly to distributors via commissions. That's $6.1 Billion per month and $201 Million each and every day – 365 days a year.2
Source: WFDSA.org
Source: Xennsoft LLC and DSA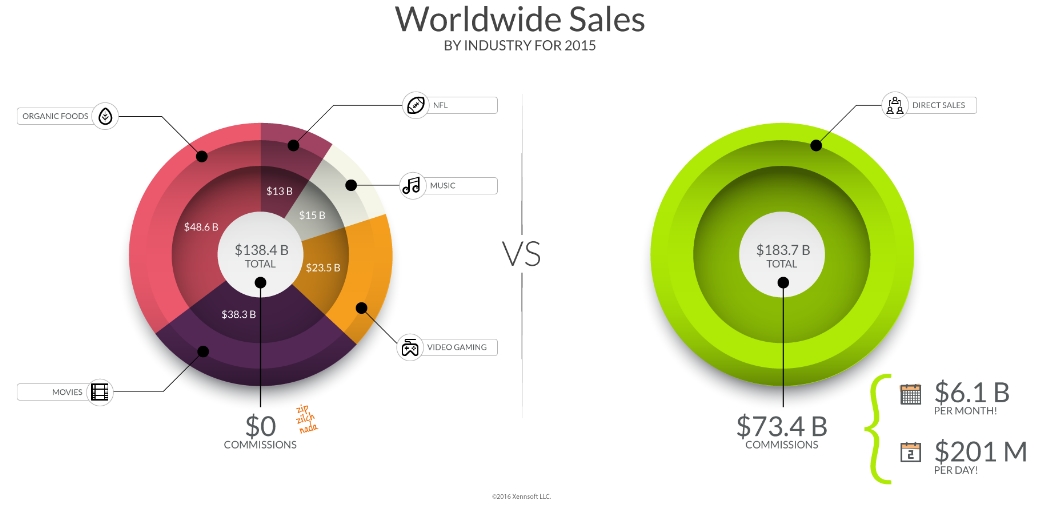 Graphic Source:
NFL: $13 BILLION Source: CNN
MUSIC: $15 BILLION Source: IFPI.org
VIDEO GAMES: $67 BILLION Source: Fortune
MOVIES (box office): $10.8 BILLION Source: Statista
MOVIE INDUSTRY: $38.3 BILLION Source: The Guardian
ORGANIC PRODUCTS: $91 BILLION Source: Statista
NETWORK MARKETING: $183.7 BILLION Source: WFDSA: Global Direct Selling – 2015 Retail Sales Report.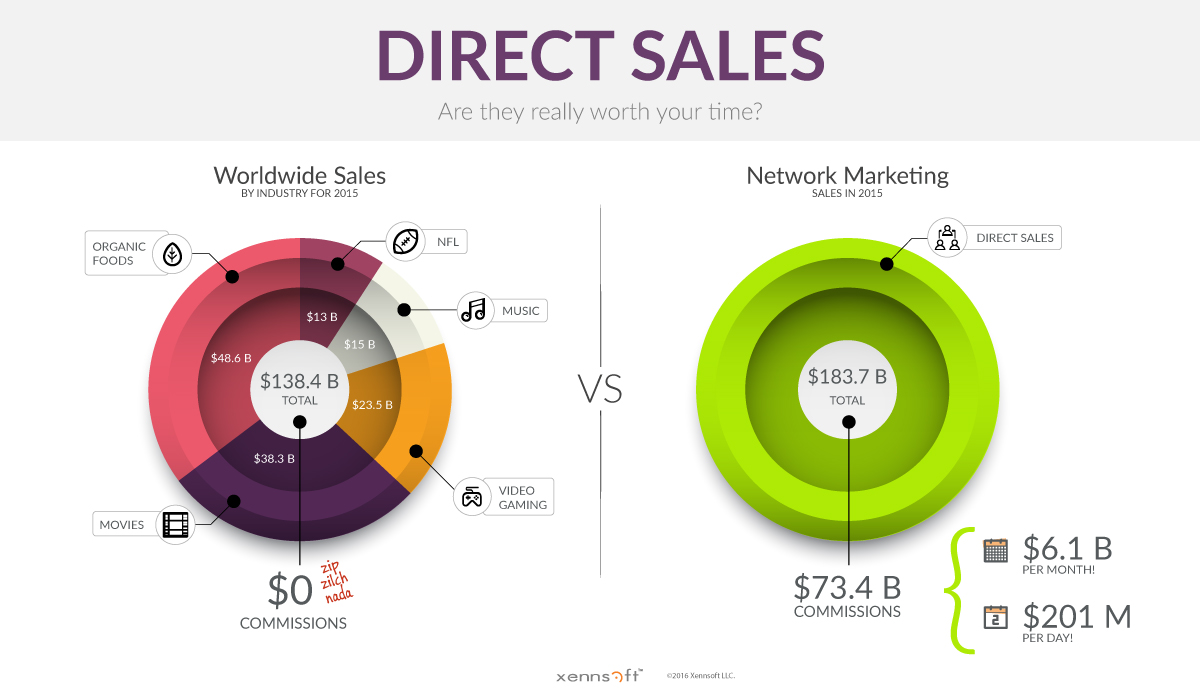 The Network Marketing and Direct Sales industry profession hit a new record in 2015 with $183.728 Billion in global sales. The U.S. was ranked as the top direct selling market in the world with 20% of worldwide sales, China came in second with 19%, S. Korea third with 9%, followed by Germany at 8% and Japan at 8%. Other counties making their mark was Brazil, Mexico, France and United Kingdom to name a few.
Direct sellers include individuals who are career minded entrepreneurs (full or part-time), building their own business within their respective company. Sales figures are expressed in USD and are estimated retail level and exclude sales tax and VAT with international sales being converted to USD using the exchange rate as of February 2015.
Figures are based on DSA Members only and do not include the entire industry.
If you are a client of Xennsoft, LLC, you automatically have permission to use this information within your own marketing.
© Copyright Xennsoft LLC All Rights Reserved